The main focus of this release has to do with enhancing usability for Service Providers, Fleet Users, and minor defect fixes.
All Users
Feature Removal: News & Upcoming Trainings Sections
With this release, we will remove the News and Upcoming Trainings sections from the Portal page in Case. Both sections have consistently shown low usage, and the information highlighted in these sections can be found elsewhere, e.g., our online Knowledge Base, Resource Center, and via other prevalent links within the application. Training will continue to be offered, and you can easily find them to sign up within the Resource Center.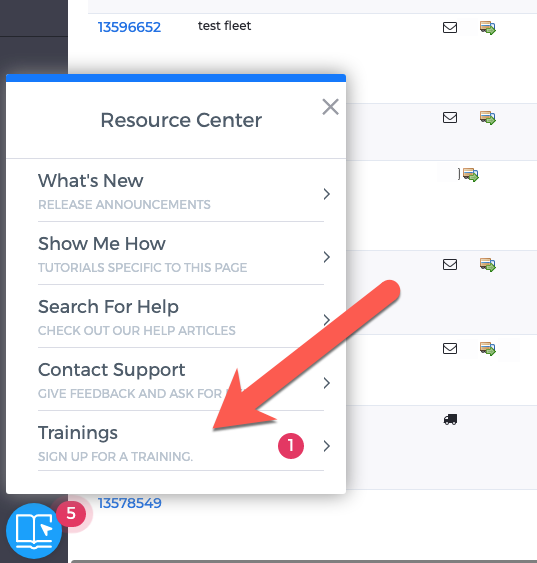 Fleet Users
Fleet Status Change Notification Message
We've added a message under the Fleet Status Change section clarifying how Fleet Status Change notifications work, so that fleet users will know that they first need to Watch the case they wish to receive notifications about.
Service Providers
Issue Fixed: No Message Displayed for .EIF Files on the Editing Case Page
Previously, some service providers encountered issues when attempting to open .EIF files from within Case, and there was no explanation as to why these issues were happening. This is due to .EIF files needing proprietary software to be read. We've added a message in the Attachments section to help users understand what they need to do with these files.
Now when a user encounters one or more .EIF files, they will see the following message: ".EIF files require proprietary software to be opened and can only be opened after downloading to your computer."
See also: Upload Attachments to a Case
Issue Fixed: Error Message When Using Workflow-Assign to Assign a Case to a Username with Special Characters
Prior to this fix, service providers encountered an unexpected error message when using the Workflow-Assign feature to assign a case to someone whose username contained special characters, such as accents.
Now service providers can assign cases to usernames containing special characters, and the Workflow-Assign feature will work as expected.
See also: Assign a Case to Another User
Mileage and Engine Hours Auto-Save Function
Now when you update the Mileage and Engine Hours fields in the Asset Info section, the information entered will be automatically saved, so you'll no longer need to click SAVE after entering this information.
After entering your new mileage or engine hours data, a green check mark will display next to the updated field to indicate the information entered has been successfully saved.


NOTE: You must select either Miles or Kilometers when updating the mileage, or else the updated data will not save properly.
Mileage and Engine Hours Fields Improvements
We have improved the user experience on case pages by ensuring that the Mileage and Engine Hours fields are clear when a service provider creates a new case. Previously, these fields were sometimes populated with data from previous cases, which led to data quality issues. For assets that have been serviced in the past, the last updated data will be shown in this section, so it can be used as a reference by the user.
With this new implementation, Mileage and Engine Hours fields will only accept characters, that way the users won't have to worry about entering erroneous data.
Additional Job Roles Available When Creating a New User or Contact
Service providers now have the ability to choose from a range of additional Job Roles that can be added to the User Details section of the Create User page. These new options include:
Field Service Manager

Field Service Advisor

President

Owner/Operator

Owner

Billing/Accounting

Account Manager

Mobile/Remote Technician

Parts Warehouse