The main focus of this release is to allow for more outcomes on inspections to be considered passing and improve the experience updating various fields on cases.
Service Providers
Choose from Multiple Passing Outcomes for Inspections
When selecting an outcome for a location in an inspection, you may notice more than one outcome available that marks the inspection location as Passing.

Make sure to review all possible outcomes and select the appropriate one.
See also: Assign and Perform Inspections on Mobile
Improved Experience for Updating Mileage & Engine Hours
If the system asks you to update the mileage and engine hours for an asset before requesting approval for an estimate, the system will now inform you when the export is successful and will recognize when you've updated that information within the same session to avoid unnecessary requests.
See also: Request Approval for an Estimate
Issue Fixed for Complaint (Operator Report) Field
Previously, when you selected a value for the Complaint (Operator Report) field of a case, the value disappeared from the field after you saved it. The selected value for Complaint (Operator Report) now appears as expected after saving it.
See also: Enter Case Information
Builder Users
Assign Multiple Passing Outcomes to Inspections
You can now mark multiple outcomes for an Inspection Location as Performed so that the inspection location is considered passing.
The process for marking the outcome as is the same - mark the checkbox for Performed on the Inspection Line Details page. Now, however, you can also select the default passing outcome by marking the Inspection Location as Default.
That way, if the technician doesn't select any outcome, the system will select that outcome by default.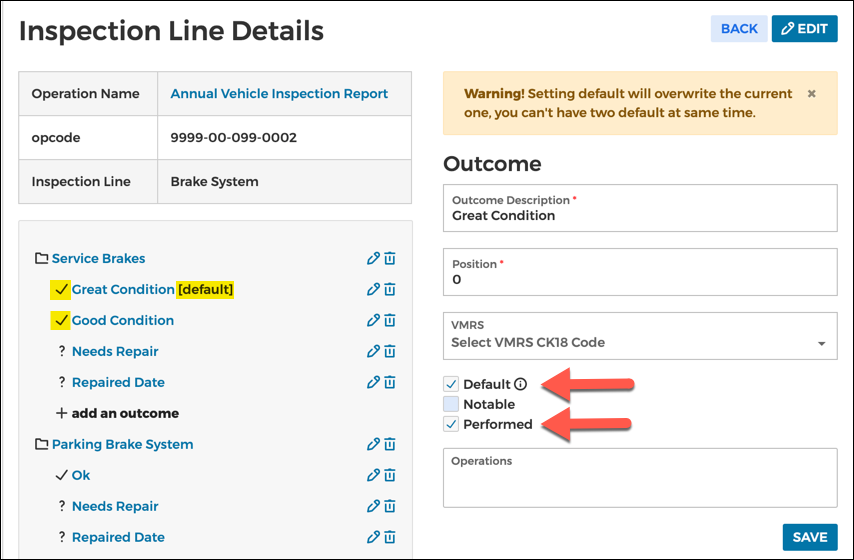 This helps create more robust inspections and allows technicians to choose from more specific outcomes on a case instead of needing to add notes or possibly miss quality information.
See also: Create an Inspection
Issue Fixed for Default Price Code
An issue was reported if you added a Price Code to an operation in Builder and also had a Default Price Code set up for your Dealer Location, the system populated the operation with the Default Price Code. Now the system will populate the operation with the Price Code saved in Builder as expected.