You can use the View Menu to create reusable Custom Views that display the same fields as cards or a list. 
Once created, Custom Views appear on your View Menu for easy access.
You can use one of your Custom Views in conjunction with a Custom Search to create a unique Case View that can then be saved as a favorite for quick viewing later. 
NOTE: You can only create Custom Views using the Card View or List View option. Chart views are not customizable.
To create a Custom View:
From the View Menu, select the view option you want to start with (Card View or List View), then click the target icon for Add Card or Add List, depending on the view option you choose.
Click the first Select Field dropdown, scroll through the list of available fields, or begin typing in the field you're looking for and select it from the list.  
You can repeat step 2 for any fields you want to display in your Card View or List View. The order in which you select the fields determines how they display in the view. For Card View, the fields display on the card from top to bottom.For List View, the fields display as columns from left to right.
Once your search criteria and logic are complete, you can enter a name for your Custom Search in the Custom Search Name text field.Only the first 20 characters will be visible from the Custom Search menu. For any more than that, you'll need to hover over the name to see the rest of the name.
Finally, click Save.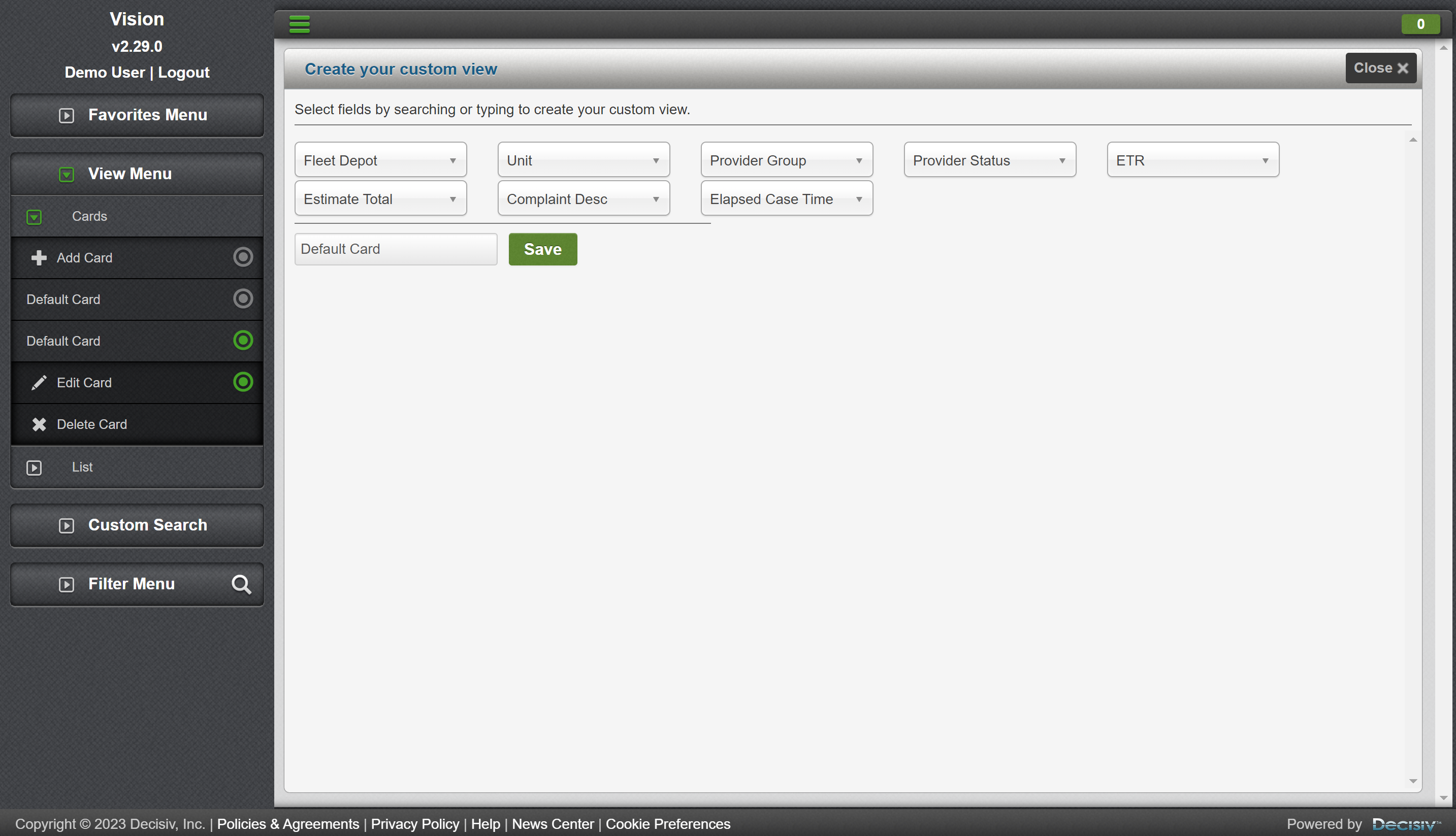 Edit a Custom View
You can edit or delete a Custom View at any time.
To edit a Custom View, select the View Menu, then select the view option or the Custom View (Card View or List View), and click the name of the Custom View.
Click Edit Card or Edit List to open the Custom View for editing. From here, you can remove, add, or change any of the selected fields as well as change the name of the Custom View. Click Save when you're done.
NOTE: Any changes you make to the Custom View will not affect any Favorites that use that Custom View. To change the Favorite, select the Favorite, then click Edit View.
Click Delete Card or Delete List to remove the Custom View from your account.